Jackson Livestock Clears Rams to $5500 High
---
2016 Sale Report
SALE SUMMARY
Offered: 40
Sold: 40
Top: $2300
Av: $1377
Strong competition from repeat buyers and new bidders underpinned the success of Jackson Livestock's Border Leicester and Poll Dorset stud's annual on-property sale at Moyston last Thursday, with a top price of $5500 for the Border Leicesters.
Stud principals David and Carol Jackson and Ross and Lydia Jackson sold all 90 Border Leicesters on offer for an on-property record sale average of $1546 and the 40 Poll Dorset rams on offer also sold for a record sale average of $1377.
Bidding never slowed throughout the ram sale with 63 registered buyers attending from throughout Victoria, New South Wales and South Australia.
Mr Jackson was very pleased with the sale result for both breeds, particularly the increase in the average price and the complete clearance of rams.
"The great support from new buyers, repeat clients and agents, has made this sale our best ever," Mr Jackson said.
In a quality line-up of high indexing Border Leicester sires, Heather Stoney, Ellingerrin Border Leicester stud, Modewarre, purchased the top priced ram, lot 3, for $5500, from the Two-Dot stud of Ross and Lydia Jackson. This young sire boasted a balanced set of figures, with a Maternal Index of $120.4. His grand sire was bred by Ellingerrin, and his dam was an award winning show ewe from the Two-Dot stud.
Mrs Stoney said she selected the ram because of his breeding, balance, and lovely fleece of wool.
Repeat buyers Doug and Barry Hobson, Ercildoune, paid $5250 for Lot 4 in the catalogue, a Border Leicester ram also sired by Jackson Top Gun. They also paid $2000 for another selected Border Leicester ram.
The Banks family, Mt Mercer, paid $4,000 for another Top Gun sired ram, which had won the Maternal Lamb Production class at this year's Hamilton Sheepvention.
Volume buyer on the day was Ben Cameron and Meera Dawson, Skipton, who bought 14 Border Leicester rams for an average of $1364, while M&G Coupland, Deniliquin, NSW, averaged $1367 for nine rams.
Ned Kelly, Woorabinda Pastoral Co, Mortlake, picked up five Border Leicester rams paying to a top flock ram price of $2100 for two high indexing SuperBorder rams, while PB Bourchier, Chatsworth, bought six rams paying an average of $1383 and Sierra Park,
Victoria Valley, bought four rams for an average of $1275 while IR&LE Jubb, Hexham, took home three rams paying up to $1800.
Return local buyers included Glendhu Grazing Co, Ararat, who bought nine rams, Byrne Farming, Ararat, who purchased seven rams averaging $1271, and Noelhurst Pastoral Company, Jallukar, bought four rams for an average of $1225.
The Poll Dorset portion of the sale also got off to a cracking start with a top of $2300 paid by Chris Hewitt, Alderside Park, Warracknabeal, for a May 2015-drop ram, sired by Gloroy 555/11, with a carcase plus index of 180.4.
Volume buyer in the Poll Dorsets was V&R Dawson, Skipton, who bid to $1500 twice in securing their nine rams, while Woorabinda Pastoral Co also added to their selection, taking home four rams, paying to $1900 twice.
Robert and Jill Marshall, Moyston, bought five rams averaging $1260 and Nicholls Farming, Clare, SA, paid an average of $1225 for four rams.
Elders auctioneer and stud stock manager Ross Milne, was impressed with the depth and quality of the Jackson family's line-up of Border Leicester and Poll Dorset rams and believed this was reflected in the prices.
"It was a very strong, consistent sale from the start through to the finish, supported by regular buyers as well as new clients," Mr Milne said.
Elders and Landmark were joint selling agents.
- KYLIE NICHOLLS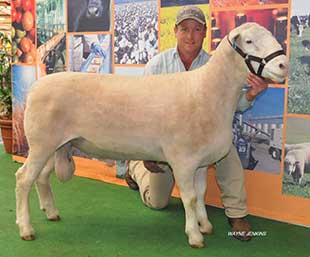 Ross Jackson holding the Supreme Poll Dorset Exhibit Royal Adelaide Show 2016 which sold for $16,000 at the Australian Dorset Championships in Bendigo.
Photo courtesy Wayne Jenkins.