Horsham Show & Sale Results
---
2019
Jackson 128/18 sold for $6000 to Mark Mckew of Mount Cole Creek.
2018
Second top priced ram at the 2018 Horsham Border Leicester Show and Sale was Jackson 125/2017, a twin brother to the top priced ram at the Jackson Farming on Property Ram Sale.
125/2017 sold for $10,000 to Pembroke Pastoral Co, Telangatuk East.
His twin 126/2017 was sold for $12,000 to Will Schilling, Glenlee Park, Gerang Gerung.
2017
2 Rams sold for $6,000 to Brimgower Farms, Brimpaen and $4,000 to the Freeman family, St Arnaud.
Four selected yearling ewes averaged $1,000 each.
2016
Jackson 166/15 placed third in the Champion lineup and sold for $7,500 to Charlie Koch, Tallageira Pastoral, Frances, South Australia.
2015
Jackson 95/14 sold for $5,000 to Craig and Jenny Bradley. New Armatree, NSW.
Semen from this ram has been exported to Chile. South America.
2014
Two-Dot Border Leicester stud sold 483/13 for the second highest price of $7,000.
2012
Jackson Border Leicesters achieved a new record price of $15,000 at the Horsham Show and Sale.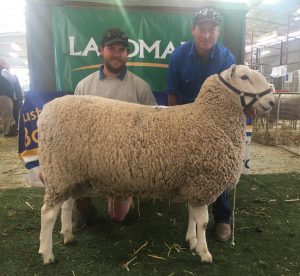 2018 Second Top Priced Ram
Jackson 125/2017, purchased for $10,000 by Pembroke Pastoral Co