Jackson & Two-Dot Border Leicesters
---
The Jackson Border Leicester Stud was established in 1987 with the purchase of 14 ewes and 1 ram lamb from the Broadways stud in South Australia.
The Two-Dot Station Stud was registered in 2001, Ross had his own sheep from pre school days, branded with two dots, to avoid any confusion of income. He received help and encouragement from the Retallack stud, initially, in the form of cast for age ewes and older rams.
The 2 studs are run together in the same mobs and paddocks, and 250 quality ewes are joined each year. Artificial insemination has been used in the past, and rams from outside have been purchased, to achieve a blend of genetics within the flock. In 2011 we purchased Retallack Pure Steel (635/10), for a then Australian record price of $16,000.
We are members of the $uperBorder$ marketing group, which is a trademarked name for high performing Border Leicesters, bred to strict standards. These sheep are ranked by Lambplan to have superior genes for lamb production, and must be ranked above the fifty percentile value for Lambplan recorded Border Leicester sheep.
Our main breeding aims include:
To produce robust, healthy sheep able to perform in all commercial conditions.
Continue to breed structurally sound and stylish sheep without losing carcase quality and meaty hindquarters.
Rigorous selection of high fertility sheep with strong maternal attributes.
The combination of these traits should give commercial producers the opportunity to achieve a profitable outcome from their sheep enterprise.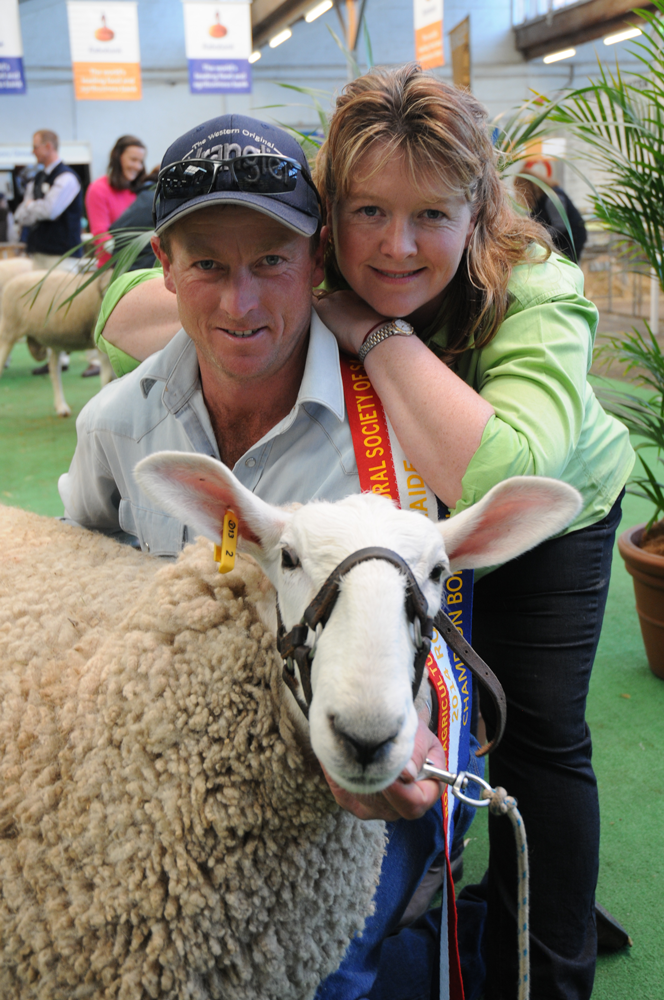 Ross & Lydia Jackson with the Champion Border Leicester Ewe, Adelaide Royal Show 2015 .