Jackson ram sale soars to $12,000
---
By Kylie Nicholls, Stock and Land
Border Leicesters -
*Total clearance of 100 Border Leicesters sold to $12,000, av $2113
Poll Dorsets -
*31 of 39 Poll Dorsets sold to $2200, av $1083
The Jackson family have capped off a stellar year in the showring with their Border Leicester ram sale achieving a record on-property top of $12,000 and an average of $2113.
Strong competition from repeat buyers and new bidders underpinned the success of Jackson Farming's 19th annual sale at Moyston with the Border Leicester average increasing by nearly $200 from last year's sale. In the Poll Dorset line-up, 31 of the 39 rams on offer were sold to a top of $2200, averaging $1083.
Stud principals David and Carol Jackson and Ross and Lydia Jackson were thrilled with the sale result, particularly the increase in the average price and the complete clearance of Border Leicester rams.
"The great support from new buyers, repeat clients and agents has made this a great sale," Mr Jackson said.
The auction opened with the offering of five specially selected Border Leicester rams, suitable for stud use.
The top price of $12,000 was paid by Will Schilling, Glenlee Park, Gerang Gerung, for Lot two in the catalogue, Jackson 126/2017. Sired by Jackson Carbine, from a daughter of Retallack Pure Steel, the twin-born ram featured high indexing Lambplan figures including a Border Leicester index of $116.30 and maternal index of $136.
According to Mr Schilling, who made his purchase via a phone hook-up, the ram caught his eye on a pre-sale visit to the Jackson family's stud.
"He took my eye as soon as I saw him, he is very well-balanced and stands well on his feet, with a beautiful fleece of wool, a very sirey head and a beautiful length of body, I couldn't find any faults with him," he said.
Mr Schilling is currently building up his stud ewe numbers and the ram will be used extensively in next season's breeding program.
Craig and Jenny Bradley from the New Armatree stud, Gilgandra, NSW, paid the second top price of $9000 for a Two-Dot ram who was part of the winning Interbreed Supreme Longwool Group at this year's Hamilton Sheepvention.
Also sired by Carbine, the young ram boasted a Border Leicester index figure of $122.8 and a maternal index of $135.1.
The Bradley family have used Jackson and Two-Dot genetics before with great success and were impressed with the ram's fleece quality and carcase traits.
"The ram met our breeding objectives for weaning weight and post weaning weight," Mrs Bradley said.
"Although it is really dry in our area, you still have to continue to invest in genetics."
With buyers attending from throughout Victoria and NSW, the bidding never slowed for the line-up of high indexing Border Leicester flock rams.
Buying at the top end of the sale draft was NG & GC Block, Hawkesdale, who took home two specially selected rams paying to a top of $7500 while Luke Banks, Mt Mercer, paid to $4000 for two rams.
One of the sale's volume buyer was regular client I & L Jubb, Mortlake. Shane Jubb bought nine Border Leicester rams, topping to $2250 and averaging $1861, while Burgess Rural, Holbrook, NSW, operating through TB White & Sons, purchased 15 rams for an average of $1700 and a top of $2250.
New buyers included Cherrymount Pastoral Co, Glenthompson, who secured nine rams for an average of $2111, Vasey Farms, Hamilton, took home four rams paying to $2500 and Tarqua Pastoral, Ararat, purchased seven rams, averaging $1428.
In the Poll Dorsets, JE & S Evans, Willaura, bid to a top of $2200 twice to secure two rams featuring a carcase plus indexes of 188.5 and 191.1.  The Evans purchased a further two rams for an overall average of $1650.
Volume buyers included Pat and Sarah Millear, Willaura, who bought seven rams for an average of $971 and Bornes Hill Pastoral, Willaura, with six rams paying to $1700 and averaging $1216.
Elders auctioneer and stud stock manager Ross Milne was impressed with the depth and quality of the Jackson family's rams and believed this was reflected in the prices.
"It was a very strong sale, supported by repeat buyers as well as new clients," he said.
Landmark were the settling agents on the day.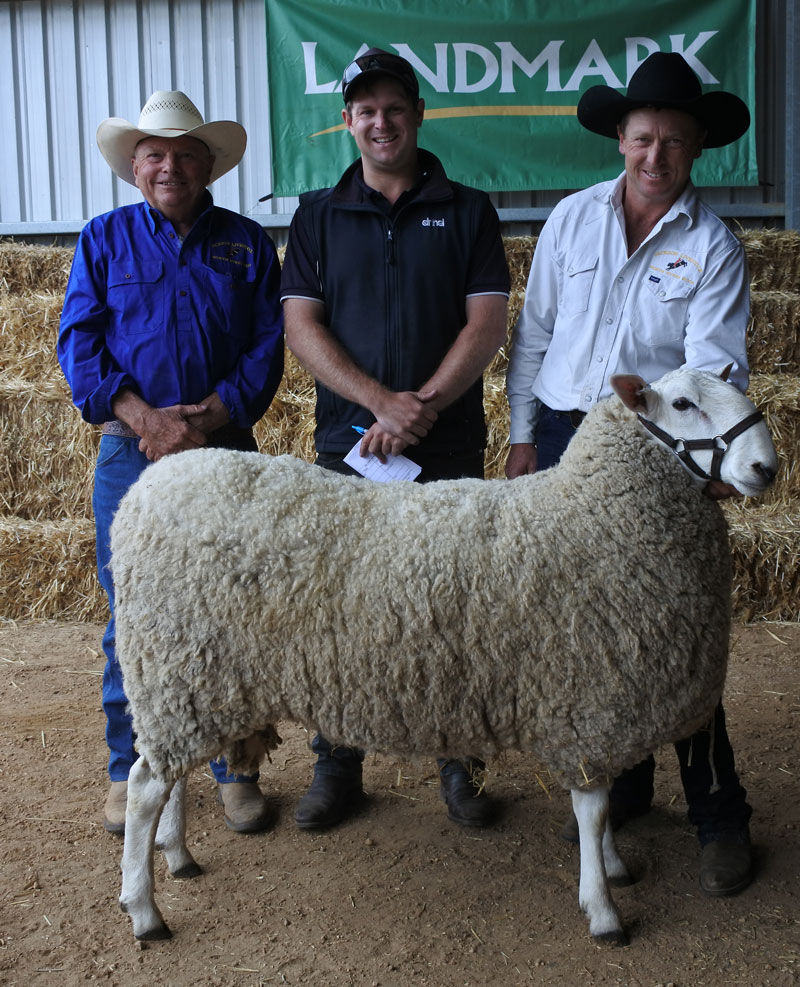 David and Ross Jackson, Jackson Farming, Moyston, with Nev Routley from Driscoll, McIllree & Dickinson (centre), Stawell, who bought the top priced ram for $12,000 on behalf of Will Schilling, Glenlee Park, Gerang Gerung.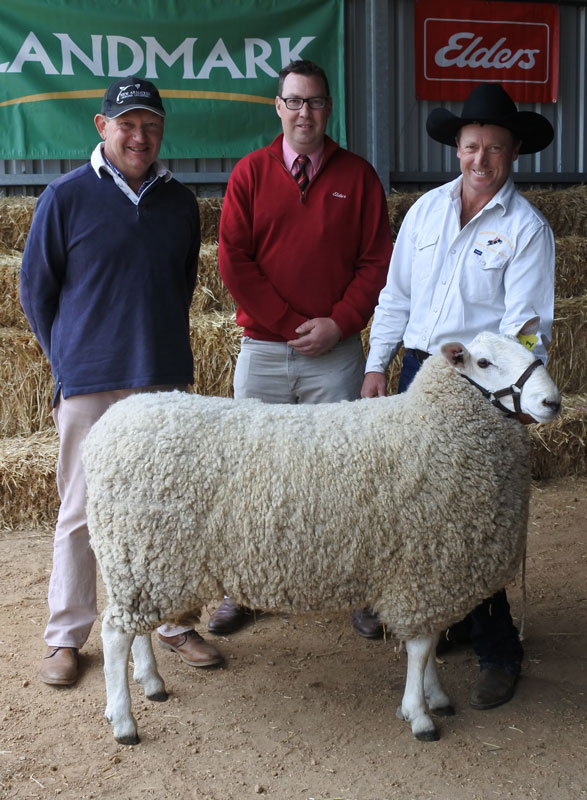 Craig Bradley, New Armatree, Gilgandra, NSW, Ross Milne, Elders, and Ross Jackson, Jackson Farming, Moyston, with the second top priced ram bought by the Bradley family for $9000.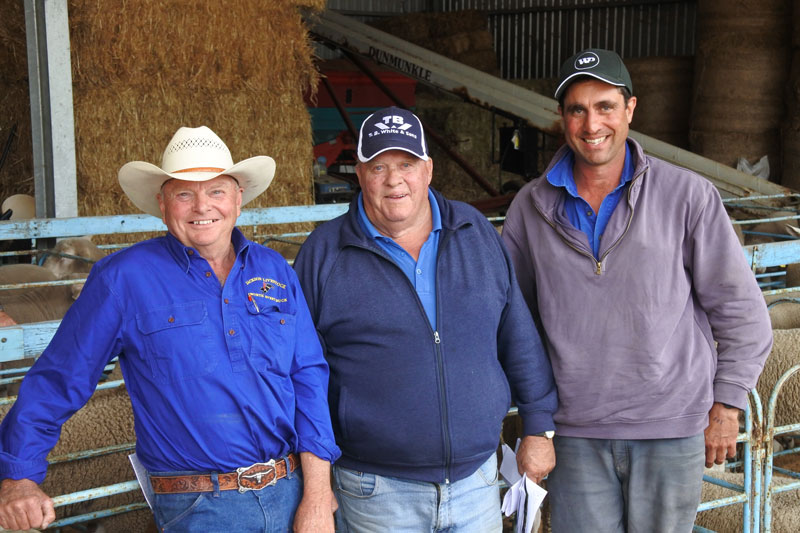 Jackson Farming stud principal David Jackson, with Geoff White, TB White & Sons, Ballarat, and Wes Stott from Burgess Rural, Holbrook, NSW. Burgess Rural purchased 15 Border Leicester rams for an average of $1700.